QuartzSales is helping its customers achieve the perfect store in over 14 countries.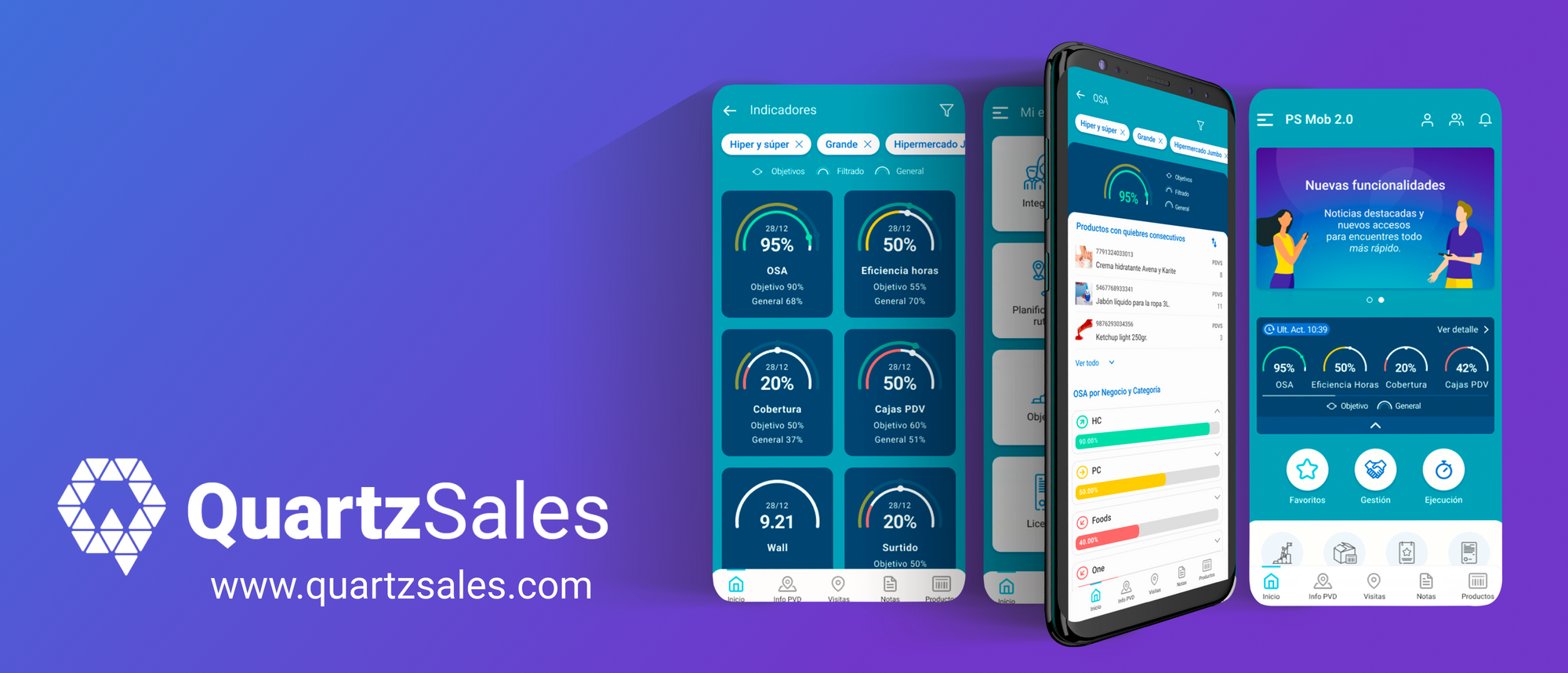 QuartzSales is the #1 platform for the management of commercial teams and the integral execution of Trade Marketing, created by e·Saurio, a company specializing in the development of mobile applications, focused on meeting the needs of different sectors, clients and countries.
---
In today's technological world, it is not difficult to find an app or platform that helps us optimize the tasks we carry out day after day, both in the professional and personal field. However, it is very difficult to find an application that covers all the necessary aspects to fulfill these tasks, which forces us to complement it with another and as a result we find ourselves storing data on different platforms that end up being dependent on each other, preventing us from achieving the desired productivity.
The Retail industry is no stranger to this reality, being an area that requires meticulous control, especially when it comes to inventory management, sales force management, POS control, among other procedures that aim to increase sales and achieve the objectives of a company.
"A trade marketing strategy with the perfect formula for success will not give good results if all the elements that comprise it are not managed correctly"
Ana J. Fernández - Marketing Specialist e·Saurio
In this sense, QuartzSales appears with a unique and innovative proposal, providing solutions in terms of management, handling and control of processes, data, inventories and much more. Developed under the exclusive agile methodology, Turbo, created and implemented by e·Saurio; QuartzSales is not a generic platform, on the contrary it is completely customizable to the taste and needs of its users / clients, focusing at all times on achieving their business objectives and increasing their productivity.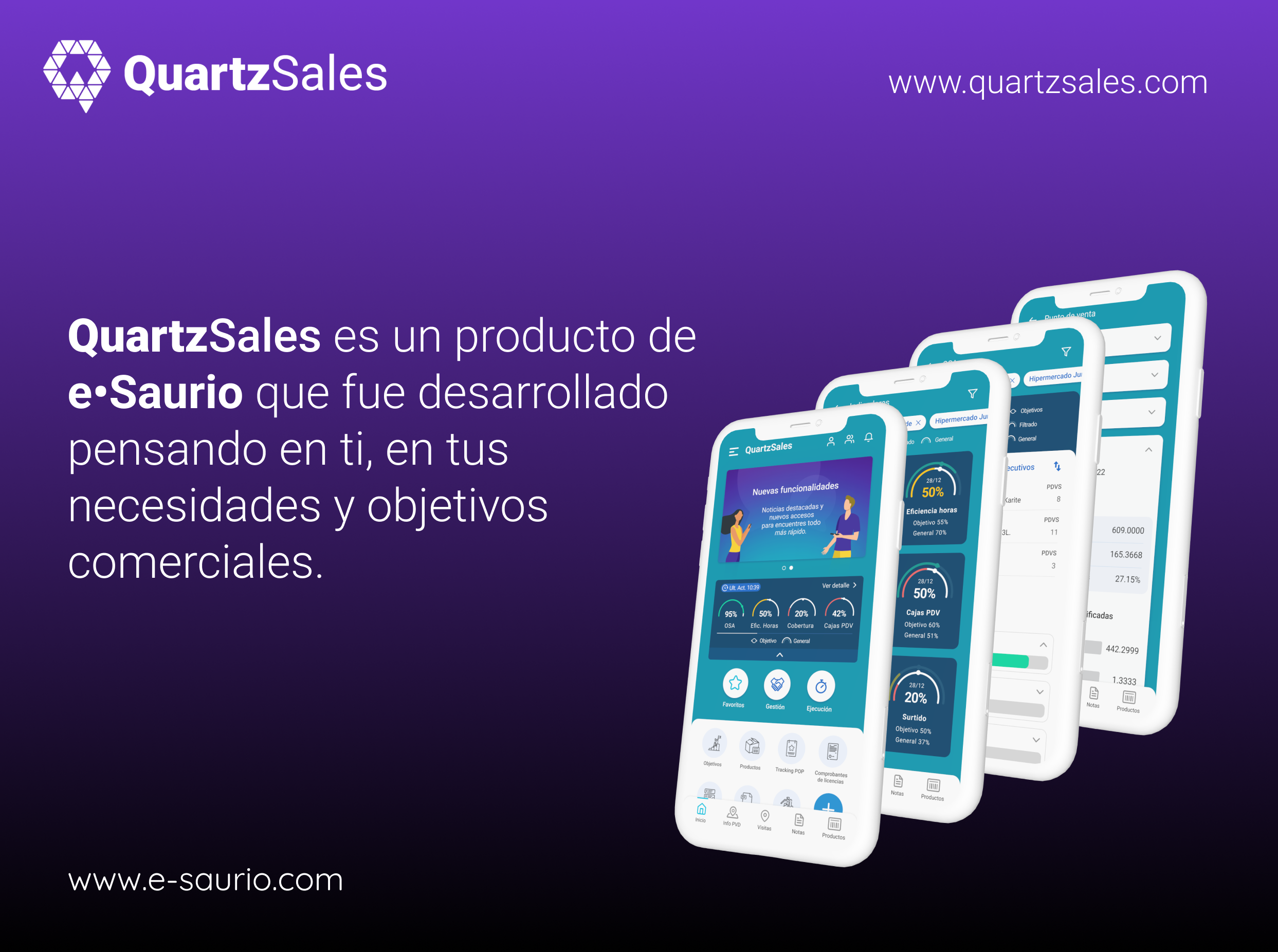 Building the perfect store seems like a difficult task, but it doesn't have to be when we have a well-structured trade marketing strategy and use the right management software to control all aspects of it. This is how QuartzSales has been making its way in the retail industry, with a clear proposal that has left amazing results for different recognized companies in the retail world.
QuartzSales takes you on the path of the perfect store by allowing you to manage the following aspects:
Sales information:
● Sell Out.
● Stock.
● Orders in real time.
● Suggested prices.
● Information from third parties.
POS Execution:
● Planning.
● Assignment.
● Execution.
● Control.
● Sale.
Data science:
● Statistical and predictive analysis.
● Artificial intelligence.
● Generation of intelligent tasks.
Business Intelligence:
● Product.
● Price.
● Promotion.
● People.
Within each of the above sections, QuartzSales offers even more Information about your POS such as:
Agenda and routing of executives.
Handling and management of different forms such as; breaks, price taking, gondola share capture, exhibition control, launch control, promotion control and many more.
Information about your POS.
Planograms.
Competition monitoring.
User routing.
Tracking of POP material.
E-commerce, KPI's, news, among others.
Among the achievements that QuartzSales has contributed to its clients we can find the significant increase in sales and productivity in thousands of direct and indirect POS. Likewise, the increase in the visibility of the products in the points of sale by more than 40%, reduction of operating budgets due to the follow-up of promotional materials, reduction of time in the store by more than 50%, among others.
Join us on the path to the perfect store, visit www.quartzsales.com and schedule your demo today!
---
If you liked this article, do not forget to subscribe to our blog.
Follow us on Instagram @quartzsales
LinkedIn QuartzSales

Until next time! ;)