To achieve a unique and positive shopping experience, it is essential that the consumer feels identified with and/or close to the brand, which generates their loyalty.
---
Empathy and ethics are two keywords when we talk about brand humanization; But what exactly is humanizing the brand and why is it so important as a strategy within the retail industry?
When we talk about humanizing a brand, we are referring to a concept that aims to bring the consumer closer to the company through a more friendly and personal treatment. It mainly covers the customer service, sales and marketing sectors of an organization. However, humanizing the brand goes beyond this, since, to be coherent and genuine, a brand must have this concept as a guide in its value proposition.
In short, the humanization of brands is a mindset aimed at generating a connection with customers, which is generated through a full understanding of what their needs, feelings, motivations and expectations are; Its importance lies in the fact that if we do not know our clients, our offer will not be able to cover their needs. Also, if we can't get them to feel related to our brand, we won't be able to guarantee their retention.
Currently, customer behavior has changed. Today's consumer not only wants a quality product or service at a fair price, but also wants to buy from a company that offers personalized service and prioritizes their experience. In addition, people positively value companies that position themselves, are transparent in their business, assume great social responsibility, and have values similar to theirs.
All of this, together, generates a feeling of trust in consumers, which becomes a fundamental perception to build customer loyalty and propagate the credibility and reputation of an organization in the market.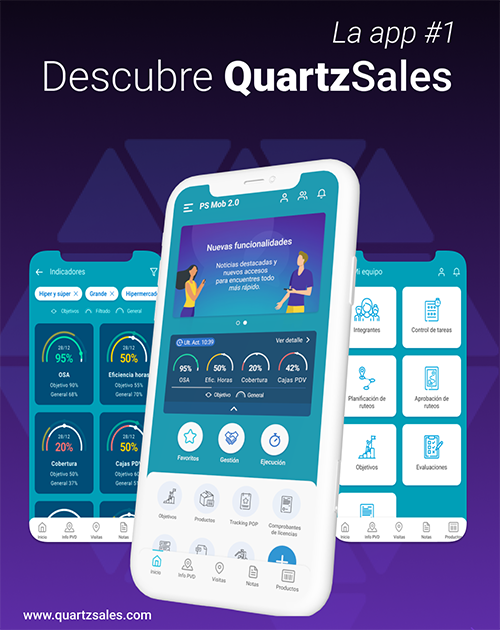 How to humanize your brand with QuartzSales?
As we told you before, knowing your target audience is essential to be able to offer them what they are looking for and get closer to them. For this you must know how they behave and what exactly they are looking for. Through the KPI's that QuartzSales shows about your different points of sale you will be able to:
Know the status of your inventory and manage orders. This provides accurate information on sales in your POS, based on this information you will be able to determine if your offer covers the demand in that area and for that clientele.
Manage your planogram. Through QuartzSales you will be able to establish a planogram that adjusts to the needs and desires of your target, which will allow them to feel that closeness to your brand that you so desire when realizing that the arrangement of products at the point of sale is their preference.
Obtain metrics and manage large amounts of information. Through data collection we can obtain answers and relevant information about our consumers and their behavior at the point of sale.
Have statistical and predictive analysis. QuartzSales makes decision-making a quick and friendly process, since with all the information it manages, it is capable of analyzing and producing results that help you make the best decisions for your trade marketing strategy.
Train your work team. This point is essential to offer the attention that your customers deserve. If you do not have a trained work team focused on achieving the perfect execution within the POS, your results will not be favorable and this will be reflected in sales. QuartzSales has a module specifically designed for this where you can upload content to train your work team and later evaluate them in our trivia section. It's a fun and effective way to ensure all team members get trained.
Communicate. Through the internal messaging offered by QuartzSales, the work team will be able to maintain constant communication and this is key to quickly communicating and solving any inconvenience within the point of sale that may affect the shopping experience.
The above are just some of the aspects that QuartzSales covers to help you humanize your brand and therefore increase your productivity and sales. If you want to know more about this platform that is revolutionizing the retail industry, visit www.quartzsales.com
---
Follow us on instagram @quartzsales
LinkedIn QuartzSales
Until next time! ;)