Denver Farma and QuartzSales: a success in improving order and sales management.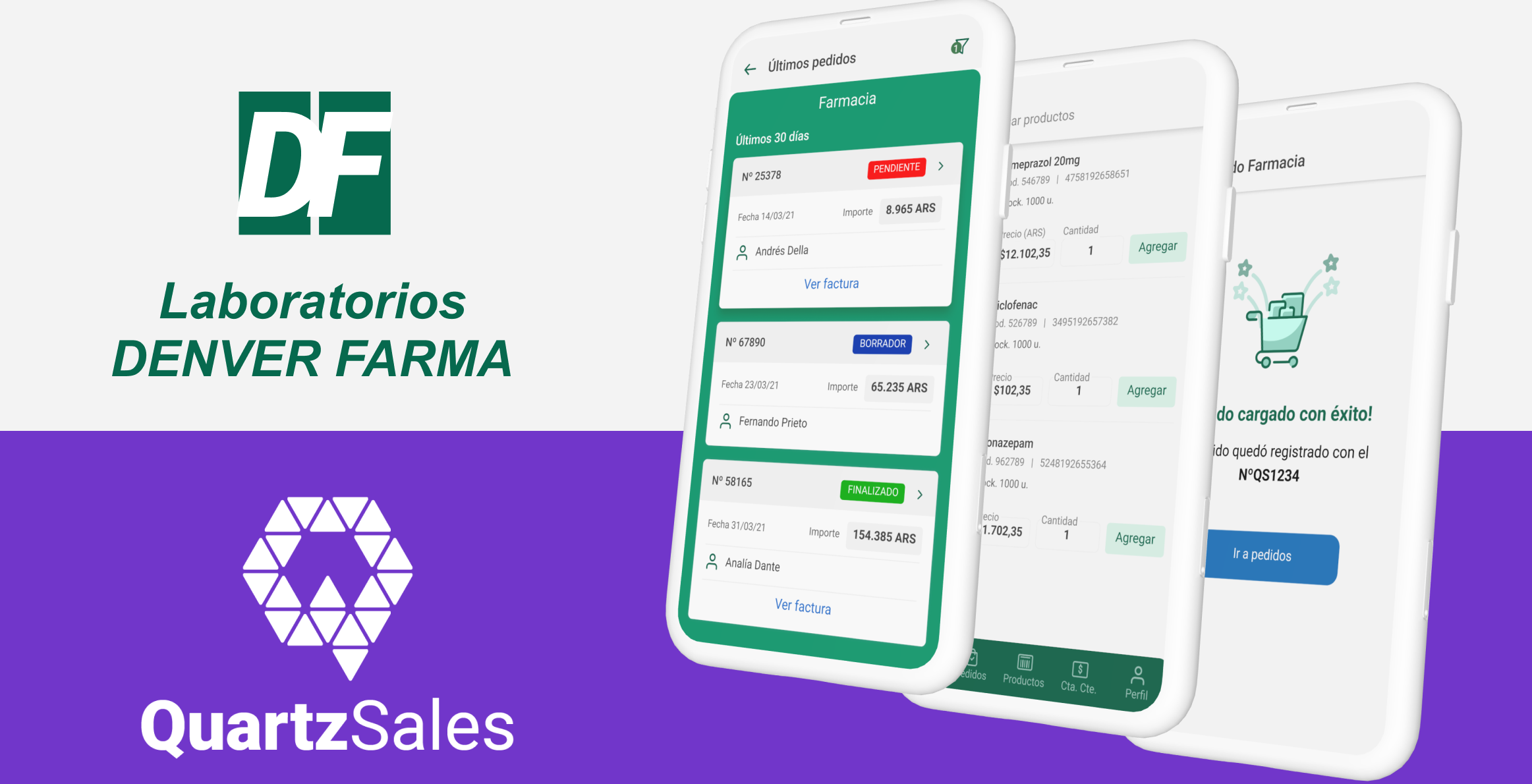 Thanks to the implementation of QuartzSales, we were able to deliver a 100% functional mobile application with an attractive and friendly user interface that managed to make Denver Farma's sales management a much more efficient and modern process.
---
Today, in our blog we want to tell you about a success story we recently had with Denver Farma, an incredible pharmaceutical company! So that in this way, you can get to know us a little more in depth. Denver Farma is a leader in the pharmaceutical market with more than 28 years of experience, however, its order management software presented significant technical and accessibility challenges for vendors. But here came e·Saurio with QuartzSales to save the day!
As soon as they contacted us, we got to work improving their limited order management software and focused on fixing issues they were having with SAP, lack of access to inventory control information, and UX/UI issues on the website that did not adapt to different devices. And so, the e·Saurio team worked hand-in-hand with the Denver Farma team to make sure the QuartzSales implementation process was as smooth as possible. And, voila! The result was a complete success! Denver Pharma's order management just got more efficient, modern and easy to use thanks to QuartzSales.
Thus, we were able to deliver a mobile application with an attractive and friendly user interface, and that also works even when there is no internet connection, and this was just what the sellers needed! We were also able to integrate SAP for inventory control information and user profiles, and now sellers can add other QuartzSales modules such as arrival/departure records, routing/agenda, forms, and statistics to help with day-to-day of the sales force.
All of this resulted in great success for Denver Farma as they were able to improve their sales management in a more efficient and modern way. And best of all, we can say that Denver Farma is happy and satisfied with our work, which fills us with pride and motivates us to continue working hard to help our customers.

Remember that with QuartzSales, you can manage your orders, inventory and more in one place, saving time and effort. In addition, QuartzSales allows you to access your information from anywhere and at any time, even without an internet connection. This means your salespeople can place orders in real time, increasing the efficiency and productivity of your sales team. It also offers integration with SAP, allowing you to access valuable inventory control information and user profiles. In this way, you can have a complete and updated view of your stock and the performance of your sellers.
In short, QuartzSales is a powerful and easy-to-use software solution that can help you streamline your sales processes, improve your team's efficiency, and increase your customer satisfaction, which is why its implementation at Denver Farma was a complete success.
To learn more about QuartzSales, schedule a demo meeting with us at www.quartzsales.com and discover its full potential. Until next time!
---